IN A WORLD OF MASS PRODUCTION AND "ONE-SIZE-FITS-ALL," HAL TAYLOR CREATES FURNITURE THAT IS TRULY ONE OF A KIND.
There is something  "fairy tale-esque" about Hal Taylor's rocking chairs. Maybe it's the rocker's long runners?-Exaggerated, almost "Seussical" in design. Or the burnished luster to the wood?- So polished the chair gives off a glow.  Or maybe it's the enigmatic scrawl beneath the seat?- "The forgotten universe" (the designer writes a quote or poem beneath every piece).
What is very, very real about Mr. Taylor's  rocking chairs? They are comfortable! And these  chairs are not merely cozy, the are scientifically comfy!
How? Mr. Taylor asserts that, "one of the secrets of making a good rocking chair is … the radius of the rocker." The designer finds this  "perfect rocker radius" through a little simple math-"multiplying the chair's leg length times Pi ( π )." Each rocker in essence becomes a custom piece for each sitter based on their chair size specifications.
Hundreds of happy rockers back up Hal Taylor's findings. Since his first chair, built almost 24 years ago, Hal has crafted near to 400 rocking chairs. And it is not only the average Joe who appreciates a "good rock," Taylor cites celebrities such as HRH Prince Charles, (the late) Sam Maloof, and Dave Matthews as clients .
MATHEMATICALLY SUPPORTED OR NOT,  A HAL TAYLOR CHAIR ROCKS!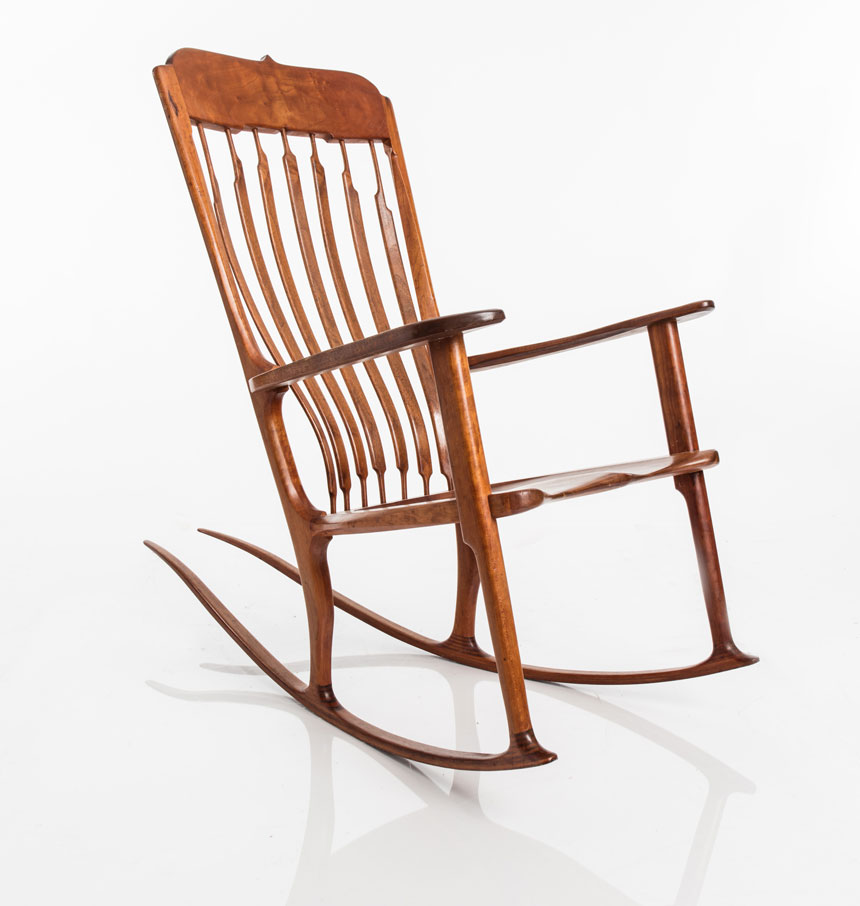 The "perfect rocker radius" is just one component that goes into one of Hal's amazing rocking chairs. To find out more about Hal Taylor and his latest projects, check out his website at: http://www.haltaylor.com/. Want to learn more about Hal's "mathematical approach" towards rockers? Try http://www.rockingchairuniversity.com/.
Written by Mallory O'Donoghue 
Graphics by Patricia Lesyk