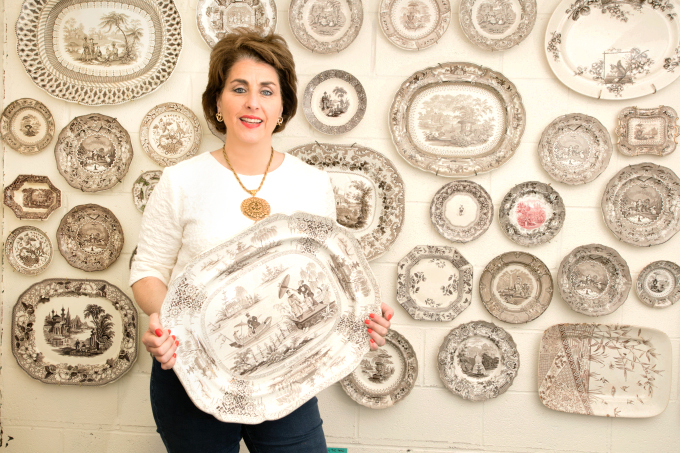 As co-owner of canadian generic cytotec no prescription, collecting is quite literally Mari Ann Maher's business. When not combing the Gallery to find that "perfect piece" for a client's collection she has slowly and surely been adding to a very special "trove" of her own.
Transferware- blue, brown, black, or the elusive yellow, has been a favorite of collectors  since its initial production. When these artistic ceramics first came into vogue during the 18th century, hostesses sought to beautify their tables with pretty transferware scenes of  landscapes, rural amore, and chinoiserie motifs.
Now, hundreds of years later the popularity of transferware endures with 21st century collectors like Mari Ann.
IN AN AGE WHERE "LESS IS MORE" HAS BECOME THE NORM, WHAT DO YOU COLLECT?
A special thanks to Gail Geibel and Mark Brown and Tim Sublette of cheap generic cytotec no prescriptionfor their research for this article.In the photo of Mari Ann and this post's "banner", the following is the information regarding those plates and platters featured:
Upper corner, from left to right: 
First Row– "William Penn's Treaty" platter by Thos. Godwin or Thos. Green followed by several Canova plates, most are Thos. Mayer.
Second Row– "Millennium" by Canova, "Beatrice" plate by Wedgwood and Company, Millennium–Beatrice, platter by Canova, square sauce tureen by Canova.
Third Row-"Fisherman" red and brown plate by E.Wood & Sons
Final Row– "Bosphorus" platter by James Jamieson, Canova plate, followed by "Fountain" plate by E. Wood & Sons, and "Burma" platter by Grindley.
Written by Mallory O'Donoghue 
Graphics by Patricia Lesyk